Full Service Antioch Sprinkler Repair & Installation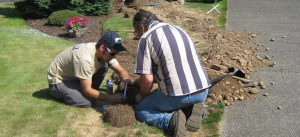 Some companies have forgotten what the term "service" actually means. They show up with a chip on their shoulders like somehow you are an inconvenience and they had more important things to do then fix your sprinkler system. Our Antioch sprinkler repair team is grateful for these companies because they are a great way for the customer to see the difference that working with a real professional can make. We deliver world class service, the kind that our fathers and their fathers before them not only expected, but demanded.
When you call in our Antioch sprinkler installation specialists, we will start by walking through your system with you, listening to what your concerns are and developing a plan of action to make sure that the service we provide gives you the results you desire. If you're not quite sure what you want but are sure that you don't' like what you currently have, we have landscape design specialists that can be called in to help you draft a new landscape plan that will fit within your budget and give you great curb appeal at the same time.
No Job Is Too Big or Too Small For Our Irrigation Team!

We've worked with several area contractors to develop complete landscapes for large corporate clients and individual backyard get-aways. If you are looking to put in a backyard kitchen or create a great sitting area to take advantage of the beautiful year round climate, we've got the tools, the talent and the connections to make it happen.
Here's just a short sampling of the services that we do on a daily basis:
Sprinkler repair
New Installation
Spring/Fall tune-ups for your system
General Maintenance and Inspections
Checks and adjustments of sprinkler systems
Sprinkler head repair and replacement
Raising and lowering sprinkler heads
Sprinkler valve replacement
Electronic sprinkler valve location
Repairing broken sprinkler pipes
Sprinkler controller timer replacements
Wiring problems
Coverage problems
Pool rerouting
Rain and Freeze Sensor Installation
Double check assembly replacements
Pump system installs
Overall landscaping
Masonry services